discover the life
New to boating?
Your guide to waterside life
Are you new to boating or considering buying a boat? Here's an insight into what makes life on the beautiful inland waterways of the UK so appealing, as well as a few tips on how to get started.
Dip your toe in the water...
Whether you are boating for leisure or considering making a boat your full-time home, it's worth doing your research first. Investing in a boat is not only a financial consideration, but a different way of life, so you need to know if it's the lifestyle for you.
Start by visiting one of our 18 Waterside & Marina locations, to get a sense of waterside life. From central London to rural Lancashire, every marina has its own character, but common themes recur, threads that build a picture of waterside life: the presence of nature, the feeling of peace, the sense of community, and even the quiet satisfaction of carrying out tasks on your boat.
If you haven't already done so, hire a boat, for a day, for a weekend, or for a holiday. You can learn how to navigate, how to negotiate locks and how to moor your boat. You can talk to other boaters to gain a few tips, get a feel for what you want in a boat, and enjoy a taste of waterside life.
It's worth acknowledging that there's work and organisation involved in owning a boat. Your boat needs to be maintained, you need to learn a new way of doing things and you haven't got everything (including water) on tap unless you plan ahead and make it happen. This is all part of the appeal for those who love boating but it's certainly something to consider before you commit.
Make a splash...
Ready to commit? Buying a boat is your next step. Consider where you want to moor it – maybe it's a part of the country that's dear to your heart, or somewhere you can get to easily for spur of the moment weekends away, or perhaps it's a boat to live on that's a commute from your work. Check out the boats for sale that are already moored in the marina or widen your search and secure your mooring separately.
Think about the type of boat you want. Is it an inland cruiser, for exploring the waterways with a minimum of fuss? A narrowboat, wide beam or Dutch barge to experience a permanent boating lifestyle? Or perhaps a sea cruiser to moor near the coast for adventures on the sea.
Have a look at our boats for sale. With our dedicated brokerage service, you have a wide choice of boats and a wealth of advice and support from experienced brokers.
Immerse yourself...
Waterside life has many benefits you may not even have considered. At Aquavista, our boaters come from all walks of life and all age groups. And whilst they have joined the boating community for many different reasons and enjoy life aboard in different ways, the benefits they all reflect on from this way of life are universal.
Here's just of a few of the ways in which it improves your life: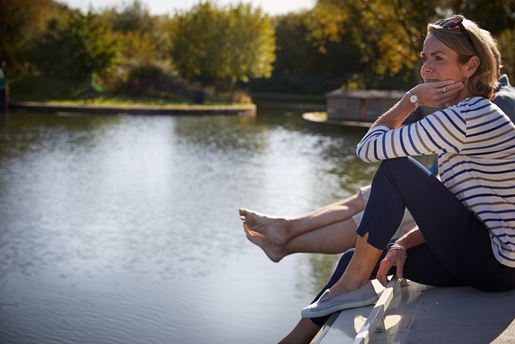 It reduces stress
Boating slows you down. And that's a good thing. In an increasingly frantic world, slowing down is good for our mental and physical well-being. Out on the waterways, you can live in the moment and become absorbed in simply navigating your boat. Relaxing at the marina, you can watch the world go by and feel the tension leave you.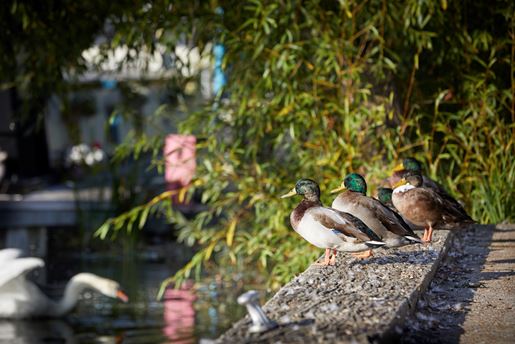 It brings nature into your life
Dragonflies flit across the water's surface on a summer's day, a breeze stirs the leaves of the waterside trees, water voles disappear into the river bank. Nature is ever-present on the waterways, and waterside life allows you to reconnect with its timeless energy and soothing rhythm.
It is a rewarding way of life
Waterside life is about so much more than owning a boat. It can be an absorbing hobby with a sense of community or it can be a whole way of life that brings peace and contentment. It opens up weekends and holidays to adventure and discovery, it brings like-minded people together and it gives you a new set of skills and knowledge to master. Whether it's a place to be a family together, a peaceful way to spend your retirement, or a practical hobby, boating and the waterside life is a richly rewarding way to spend your time.
Other guides you may like